"The Red Hot Pepper Machine": a fully-functional robotic model of the Red Hot Pepper receptor (TRPV1)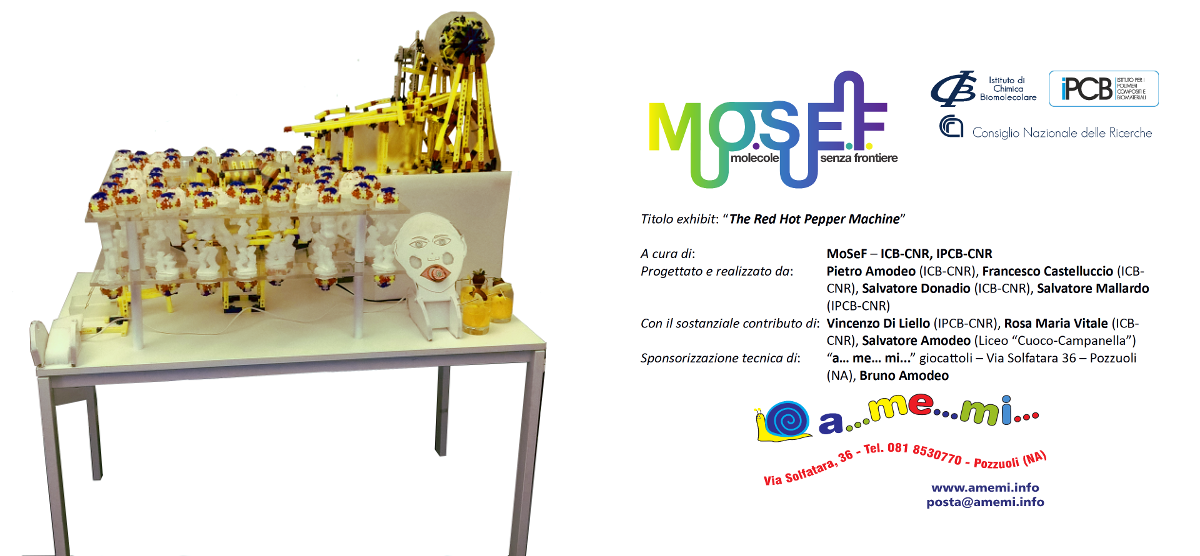 We have developed a large-scale model of the transmembrane channel-receptor TRPV1, belonging to the class of vanilloid receptors and formed by four monomeric units that assembly each other to form a pore across the membrane. It can be activated by heat, acids and by the active component of the hot chilli pepper: capsaicin (by touching the chili pepper figure on the shape). In absence of chemical (capsaicin) or physical (temperature) stimuli, no calcium ion flux occurs through the channel since the receptor is in its inactive state (soccer ball blocked in the channel). Instead, when capsaicin (big pink ball) reaches the binding site (hole with red light sensor), the receptor became activated, thus promoting the channel opening and the ion flux within the cell (the blocked soccer ball, along with the next ones, all pass through the channel). Such flux causes a burning sensation, a pain stimulus that lead to a secretion of inflammatory peptides (shape cheeks become red). The prolonged activation is followed by a prolonged desensitization phase (channel closure), when the receptor is no more susceptible to the stimuli. The receptor is then "internalized", i.e. carried inside the cell, where it could be either "cleaned" from the ligand and recycled to the plasma membrane or "degraded". The relevance of TRPV1 receptor and its homologous is not limited to the perception of "heat" (from both high temperature and spices) but, due to its involvement in the perception of pain stimuli, it represents a relevant target in the pain therapy.
The realization of a such receptor model has involved two sensors: a pressure sensor, to initiate the chain, and a light sensor, to detect the presence of the ligand, whereas the motors are the effectors mimicking the cellular response, thus illustrating the parallel between signal detection/processing in biology and robotics.
A peculiar aspect of this model is the interaction mechanism among the four receptor subunits, and, in particular, the occurrence in each of them of a region anchored to the membrane and two regions rotating in opposite directions to each other, one opening or closing the central channel and the other transmitting the signal to the next subunit, thus reproducing the activation mechanism of the receptor recently proposed on the basis of cryo-electron microscopy data.
Delving deeper into receptors and TRPV1